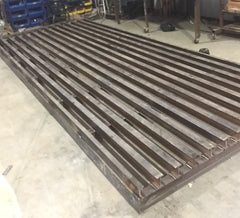 Standard Duty Cattle Guards
Standard Duty Cattle Guard
- Can be delivered*
- Concrete footer designs can be provided for your concrete contractor. We do not sell precast concrete footers.
-Fully welded heavy duty construction; theses are built to handle every day car traffic with the occasional semi truck.  
-Will be boxed on all ends to prevent dirt from filling pit
-Winged cattle guards make it harder for livestock to cross and give an easy way to attach cross fence
-Any depths grater then 8' and widths grater than 16' can be constructed to have multiple units bolted together.  
-Wings are constructed of 2 3/8" pipe and swing down for ease of installation and transport
Preferred design- all steel grade 50: 
5" I-beam base 3'-3'10" OC (based on size): S5x10
5" Channel base on sides: C5x6.7
4" I-beam top 7" OC: S4x7.7
4" Channel  ends: C4x5.4
*Delivery Fee Additional. We are not an engineering firm. Please verify with your engineer our construction will meet your load requirements. 
Don't see the size or construction specs you need? Contact us for pricing on custom sizes/design.